The MD/PhD Partnership Training Program is designed to encourage the success and development of students pursuing a future as physician-scientists in basic and translational biomedical research. The program fosters innovative and interdisciplinary PhD partnerships in an accelerated setting with a completion time of approximately four years. Scholars enrolled in this program have the opportunity to take advantage of the unique resources available at the National Institutes of Health (NIH), including the NIH Clinical Research Center and the many options for collaboration provided by the NIH Graduate Partnerships Program (GPP).
Intramural investigators established and continue to develop the MD/PhD Partnership Training Program at the NIH to train and motivate the next generation of physician-scientists. Since the NIH does not grant MD or PhD degrees, this program is affiliated with partnering medical schools in the United States during the student's MD phase of training, and with partnering universities in the United States and other countries during the student's PhD phase of training.
Students enrolled in a U.S. medical program or Medical Scientist Training Program (MSTP) are eligible and encouraged to apply for the NIH MD/PhD Partnership Program. However, participation must be approved by the student's home institution. Students enrolled in a NIH-funded Medical Scientist Training Program (MSTP) are eligible to receive additional funds to support their medical education. Although students enrolled in non-MSTP medical programs are unable to receive funds for their medical training, the PhD phase of training for non-MSTP students is fully-funded. 
 
NIH MD/PhD Program Training Pathways
Students may pursue dual-degree training through the NIH MD/PhD Partnership Training Program via one of three academic tracks. More detailed information about eligibility requirements and the application process is listed on the individual track pages.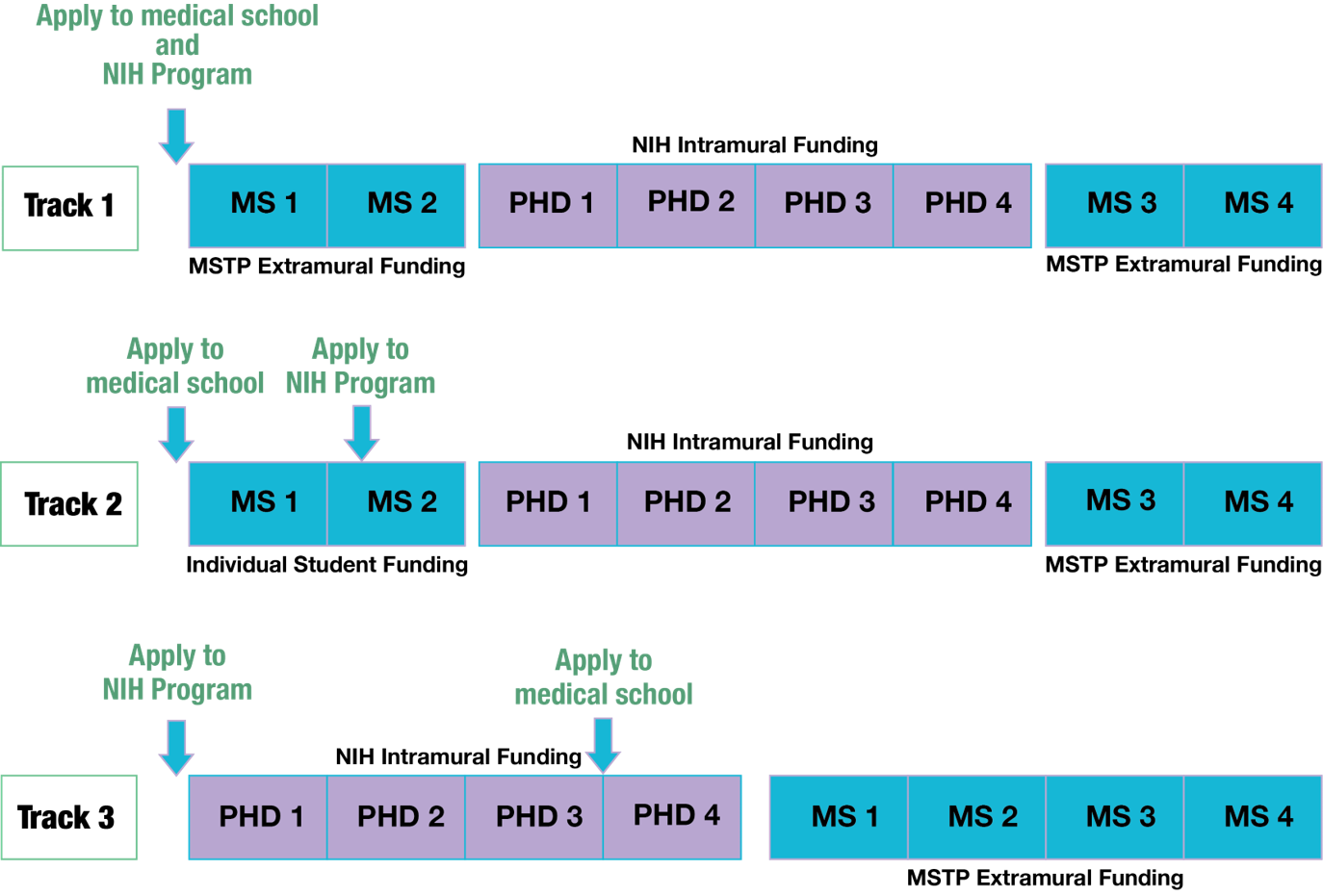 Benefits
Students enrolled in combined degree training benefit from the specialized curriculum offered to MD/PhD students at their medical school, which often includes coursework and seminars designed for combined degree trainees, as well as modified clinical rotation requirements.
Partnership students are tracked and receive career advice from a group of dedicated NIH-based MD/PhD advisors.
Students may take advantage of customized clinical activities at NIH and partner institutions while in the research phase of training, capitalizing on the resources of the NIH clinical center, the largest research hospital in the world, and first-rate clinical resources at the Universities of Oxford and Cambridge.
Tuition and stipend benefits are offered to students who enroll at a participating medical school that receives MSTP funding on a competitive basis.
For students enrolled in medical schools not receiving MSTP funding, opportunities are provided to apply for individual fellowships for both the MD and PhD phases of training.
In most cases, doing the combined MD/PhD program at the NIH should not extend the time required to complete both degrees beyond the traditional MD/PhD program (7-8 years).
Background Header
Image